Inspiration Corner
Pakistan is a culture rich zone where hundreds of artists grow up amidst the cities and express their talent in a way that leaves their audience awed. These amazing individuals abolish every barrier standing between their creativity and themselves and shape their inspiration so skillfully that they gain both national and international fame. Let's take a look at some of Pakistan's most talented female artists that we believe you should most definitely know about:
Hamra Abbas
A Kuwaiti born artist who managed to win the Abraaj Capital Art prize, as well as the Jury Prize. She is an artist who targets the cracks within a society, reveals them in a simplistic style and still manages to deliver despite that. Much of her work is inspired by what she sees or hears in the society around her, mixed with her own take on the situation. Her work has been hosted in Vienna, Royal Ontario Museum, Manchester Art Gallery, Asia Society Museum and many others.
Shazia Sikandar
A renowned miniature-painting artist, whose work led to a complete renewal of the genre, Shazia Sikandar is a Pakistani-American artist who has made quite a name for herself within the artistic circles. She dabbles in many artistic styles, from animation to miniature painting, all of which express her desire to explore and tackle cultural boundaries, reflecting them as they currently are in the world. Her work has been hosted at the Museum of Modern Art, New York, Museum of Contemporary Art, Tokyo, and a host of other places.
Aisha Khalid
A miniature painting artist who avoids the use of faces in her work on Islamic basis, something that doesn't limit her expression, but rather amplifies it tenfold. This Muslim artist deals with the topics of social expectations and oppression of women. She works with geometrical patterns replicated multiple times in an aesthetically pleasing result, creating beautiful pictures with haunting messages that last with you forever.  Her work has been hosted in a variety of places, including the Pump House Gallery in London.
Seema Nusrat
An extraordinary artist with the skills to mold any and every material around her as her creativity dictates, Seema Nusrat likes to use her work to ambiguously explore the human body in abstract ways that allow the audience to study the details and derive the meaning, rather than straightly giving it to them. She has been wildly innovative in the materials she uses for her sculptures, employing everything from plastic cups, to belts, to neckties to express herself. Her works have been seen hosted in the VM Art Gallery, Karachi, among other places.
Farida Batool
Winner of a Jang Talent Award in Lahore, Syeda Farida Batool is quite the name in the Pakistani contemporary artists' scene. Syeda Farida Batool is an artist who uses photography as her medium of expression. When she isn't using the human body as a canvas, she works with digital imagery to create abstract paintings, inspired by contemporary society.  She has held various exhibitions in India and Spain, pitching in her works to an international platform.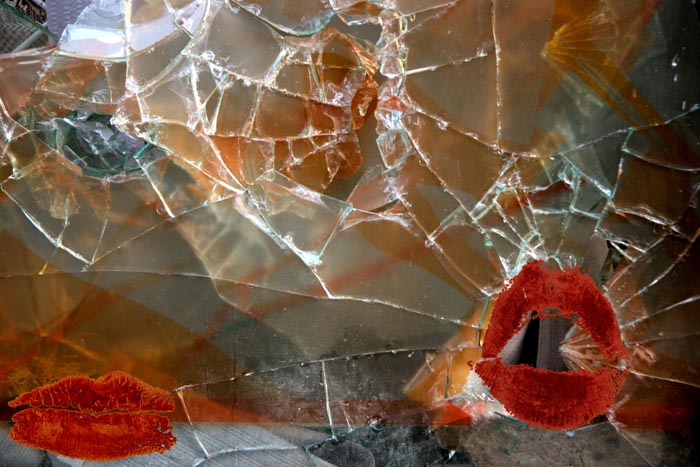 Adeela Suleman
The Assistant Professor of the Fine Arts Department of the Indus Valley School of Arts and Architecture, Adeela Suleman is a talented artist whose style is as diverse as her imagination is unbound. Primarily working with metals such as steel or iron,  her sculptures range from simplistic designs to intricate shapes that connect with each others in ways that manages to impress. Her work is beautiful, incorporating nature motifs and designs reminiscent of ancient times, only this time with a whole new artistic flair. She has had her work hosted everywhere from Dubai, to UK to Italy.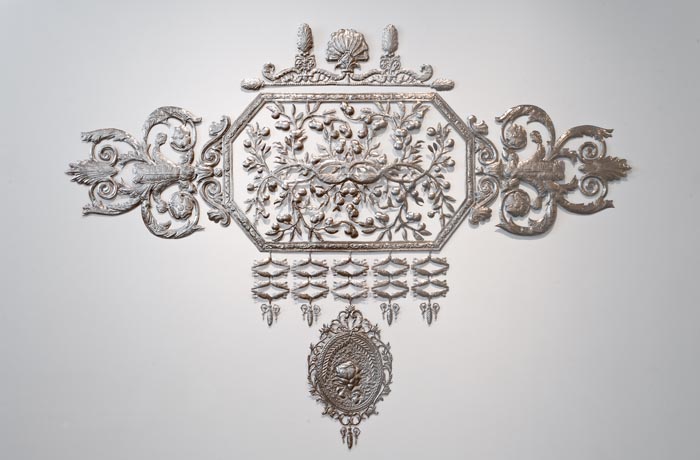 Ayesha Durrani
An artist who makes visually striking images that create an impact, all whilst making you stop and ponder, taking your time to decipher the message and letting it wash over you – that is the trademark of an Ayesha Durrani painting. She experiments with a heart and mannequin motif in highly beautiful digital paintings, all of which dazzle you with the expert use of color and symbology. She has had exhibitions in France, New Delhi, Dubai and many other places.