Beauty & Style
Hands are the introduction to ones personality. Properly manicured nails enhance the beauty of your hands and encourage healthy nail growth.Having said that, regular cuticle massage and hand moisturising along with protection from harmful chemicals such as soaps, detergents and dishwashing liquids is highly recommended. Wearing gloves during activities such as washing, scrubbing and gardening will only increase prevent premature ageing of your hands.
French Manicure:
A classic French manicure never goes out of style and gives nails a neat and elegant. But this look has been receiving a few fun twists like making the tips with a matte finish polish or going two-tone with a matte and glossy version of the same color. Either way, these modern takes on the classic French manicure are sure to make your nails sizzle!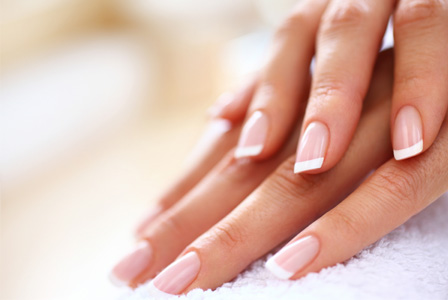 Moon manicure: The classic moon manicure is a fresh take on the French manicure. Half moons are made with polish near the cuticle while the rest of the nail is filled with another colored polish.  Shape your nails in ovals to emphasise this nail art.
Dip those tips: Oh yes! Just the tips! Glitter can either be powder one that you may find in leading nail salons with special glue to stick it on or the tips can be painted with glitter nail polishes. The base color can be anything from yellow to red or black and blue. Just experiment and try out different techniques.
Color blocking: Black blocked with pink? Or blue blocked with green? This is the most happening trend everywhere, and it is easily adaptable for your nails. Mix and match your own colors and patterns into shapes that you desire,
Sci-Fi Metals: The science fiction genre, of metallic bots and Lyrca bodysuits, inspired metallic nails as the next hot trend.A nail polish with a metallic finish with neutral colored clothing will bring out the edgy diva in you.
.
Jewel nails: Nail art accessories, nail stickers and nail jewelry are available in the market and can be bought online on different pages. They add a fun element to your nails and for those who are not that artistic, they can simply stick them on and have everyone wonder how they created such an intricate design. Plush they are easy to change up so try out different designs to celebrate the season.